Review: Bong Joon-Ho's Parasite Is Pitch Perfect
by Koom Kankesan
The winner of this year's Palme D'Or, Parasite by South Korean director Bong Joon-ho, is outstanding. I'm at a loss for this review because the film is so good, so enjoyable, that I have no criticism I can offer. Furthermore, this is the first film by this director I've seen so I can't offer any context regarding his previous efforts although from what I understand, he's made a couple of films that have turned out to be the greatest grossing films as far as the Korean industry is concerned. Furthermore, Parasite is the first Korean film to win the Palme D'Or so the director is basking in well deserved accolades right now.
Parasite is about a family, down on their luck and living in a semi-basement flat that is infested with bugs, dirt, and squalor. They pirate wi-fi, live cynical existences, and work at fairly unrewarding gigs like folding pizza boxes, only to remain in torrid circumstances. You could call them grifters but that term seems culturally inappropriate given the strong seam of economic satire presented in the film. The plot is kicked into gear when the son takes over as tutor to a rich teenage daughter studying for her university entrance exams. To pose as a qualified tutor, he must present himself as an accomplished university student/graduate and his sister easily forges the fake diplomas and documents readying him for the position. The brother gets the rich family to hire the sister as an art therapist for their demanding young son and then in turn, the daughter gets the rich family's driver fired so their father can move into that job. Eventually, they concoct a plan to make it seem as if the current housekeeper has tuberculosis so that the poor mom can get the housekeeper's job. Thus, the poor family effectively moves into various positions in the rich family's house, all the while playing roles as if unrelated to each other.
The film is composed of three 'acts.' The first act is comprised of the maneuvers and grifts that successfully places all four members of the poor family into various positions in the rich family's house. The second act takes place during an evening when the rich family (also composed of four people – mother and father, sister and brother, though the children are younger than those in the poor family) goes camping. The ostracized former housekeeper comes by during this time, reveals she has secrets of her own, and then the well laid grifts of the poor family go to hell. The third act deals with the aftermath.
My description of the film makes it sound very serious. It is not that serious, although it is. The film possesses a very dry, deadpan sense of humour which seems to translate well despite cultural differences that may exist. From cynical dialogue and delivery to bizarre, surreal interactions, the film will amaze you with its assured, seamless filmmaking. My favourite part was the first act when we see the progression of grifts systematically move the poor family into the rich household against all prediction and belief. The second act shifts the mood and genre into thriller territory, and the third runs on plain bizarre delight. It's a film that should be seen instead of simply talked about.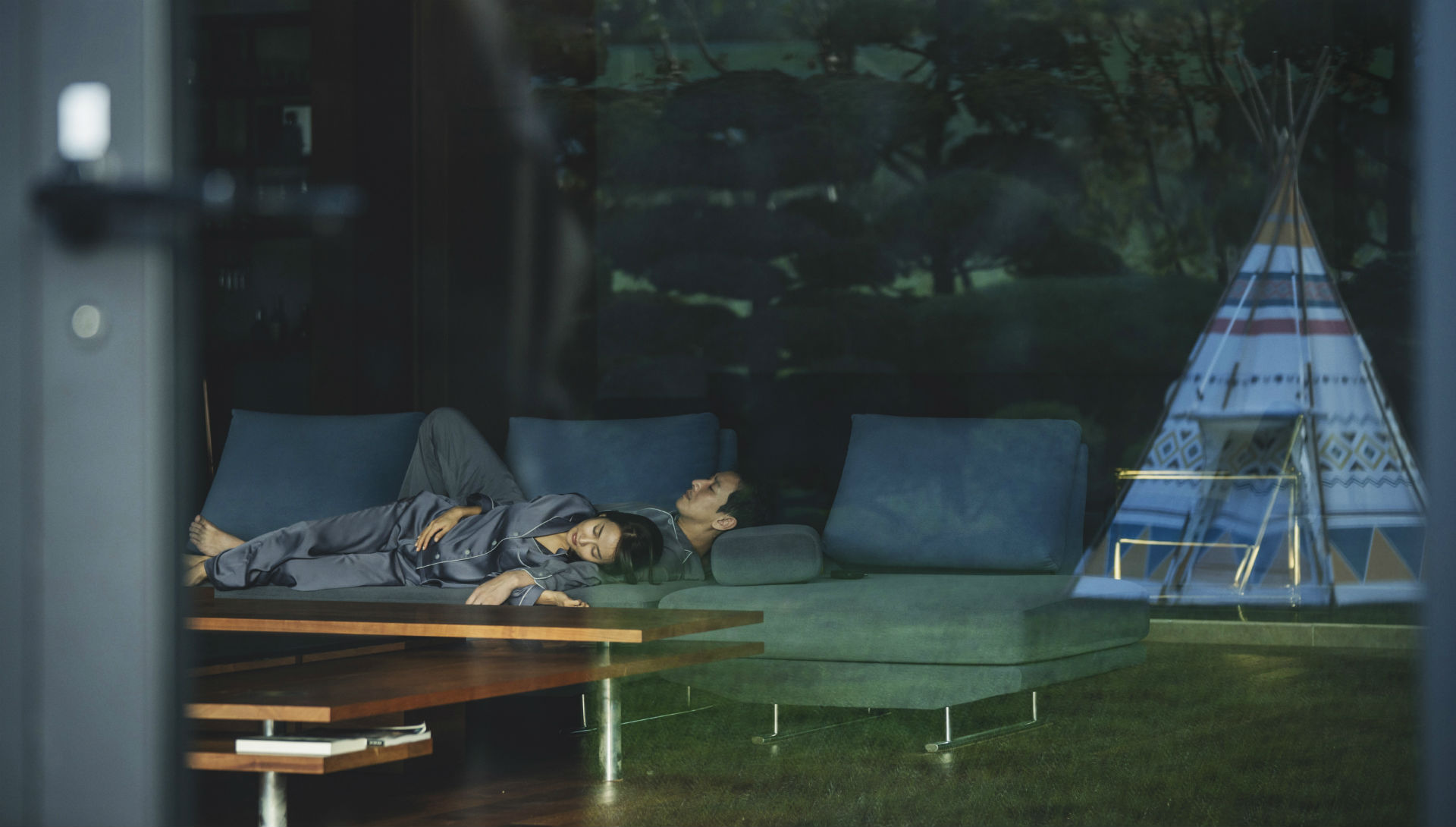 I didn't really know what to expect going into the film, except I'd heard it was getting a well deserved buzz. Mostly, I was impressed by the competency and smoothness of the editing. Shots flow into each other, are well orchestrated and poetic without seeming heavy handed, and are stitched together like classical music. The use of classical music on the soundtrack creates a peculiar harmony with its satiric tone and I really felt that I was watching something made by a unique, singular filmmaker. It's heartening to know that there are films like this still being made: subtle and witty without being overbearing, stylish and assured without being flashy.
As to the ultimate message of the film, I'd have a lot more difficulty saying what that is. There are some half-formed ideas and assumptions I can make. First of all, after everything is shot to hell for the poor family in the second act, and a rainstorm has caused flooding in the district where they live, the father says there is no point in making plans – the best plan is to make no plan at all. There's a sort of Robert Burns-esque message there about best laid plans going astray. There definitely seems to be some sort of commentary on economic class differences. The rich family is sort of a shadow of the poor family but they're worse in subtle and insidious ways. The rich parents act more civil and talk in a more refined manner but their attitudes and assumptions regarding their own privilege and prejudices make them abhorrent and all the worse because they don't realize it. As the grifter mom says, 'I'd be that nice if I were rich. I'd be richer.' And finally (I think this is maybe just my own weak theory), there's some sort of commentary about relationships to governments and North and South Korea. The housekeeper who returns and captures incriminating video footage of the poor family holds it over their heads and dryly jokes that sending the video would be like North Korea launching its last nuclear warhead.
In any case, Parasite is a splendid movie that deserves its accolades. If you have a dark or slant sense of humour, you'll love it like I did. I feel really at a loss for not having seen more of this director's movies!